by Buzz Walneck
Back in 1965 a guy by the name of William Gelbke, also known as "Wild Bill", constructed a bike of his own design. He dubbed his creation "ROADOG" and began touring the United States on it. Bill and ROADOG were seen all over the country. It is said that Bill put over 20,000 miles on ROADOG the first year alone.
Bill graduated college in Wisconsin as an electronic engineer and moved out to California for additional schooling at a Southern California University. On leaving there, he was scooped up by McDonell-Douglas for work in a defense system program. Bill did not enjoy his work at McDonell-Douglas. He dreamed of designing and building motorcycles. One day, he decided to realize his dreams and he left McDonell-Douglas. Now he was free to build motorcycles•his way! He began to design ROADOG. His design included Earles front forks, an automatic transmission and lots of power for touring and reliability. Add to that a shaft drive and disc brakes…OVER 30-YEARS AGO!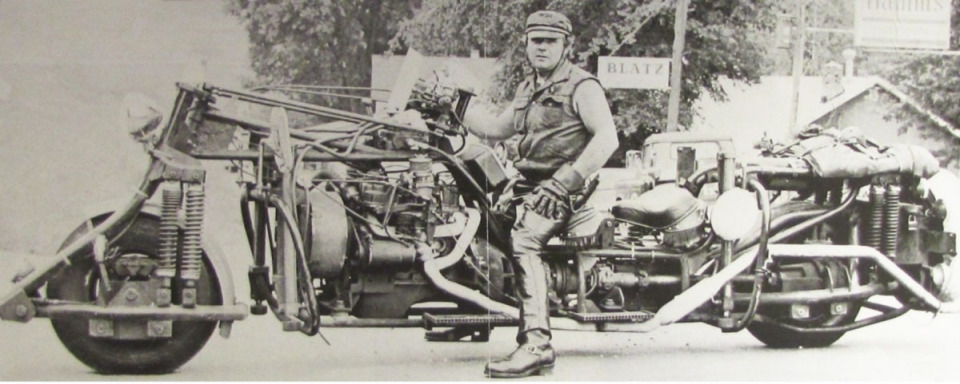 Wild Bill Gelbke on Roadog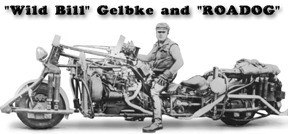 Bill moved to Chicago and opened up a cycle shop on Cicero Avenue. That was about 1962, when his plan was to build a prototype bike that he would test and ultimately put into production as a smaller model. His plan for the production model included an 80-cubic inch, English automotive 4-cylinder engine with an automatic transmission and shaft drive.
With "ROADOG" Bill wanted a bike that would cruise indefinitely at 90+ MPH. He wanted a bike as reliable as could be made. With an "IRON DUKE" 4-cylinder 152 cubic inch Chevy II engine, a Powerglide transmission, a modified Chevy differential and Corvette disc brakes, that type of reliability was accomplished. ROADOG had no side stand, but was parked with the use of four hydraulic rams, which were individually deployed by the driver. After touring the country, Bill went to work on the production model which was called the "Gelbke Auto-Four". While larger than a big Harley, they were quite a bit smaller than ROADOG and employed an Austin Mini engine and transmission. About 8-were produced and sold.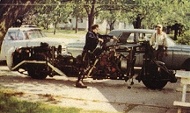 In 1972 an article on ROADOG was printed in a magazine. The article stated that the bike was 17-feet long and weighed 3,280 pounds! Also, that it could easily cruise at 90+ MPH, and that Bill had driven the bike more than 20,000 miles with no problems. The article pointed out that Bill's goals were to produce a bike that was dependable, had out-standing highway roadability, and high-speed, long distance cruising ability. Bill certainly achieved his goals!
We have heard quite a few stories from old friends of Bill. Some go like this: "Let's take a ride (from Wisconsin), to Oklahoma where you can get a really good steak". Or "Let's take a ride to Texas where they have really good beer"• often done in February or March! Another guy told us of seeing "Wild Bill and ROADOG" passing him on the tollway here in Illinois at about 100-MPH!! Before long he spotted Bill and a State Trooper on the side of the road. A few minutes later, he was again passed by Bill and ROADOG, again doing about 100-MPH! Later he stopped at Bill's shop and asked if he had gotten a ticket. Bill told him that the police officer had stopped him just to get a better look at ROADOG!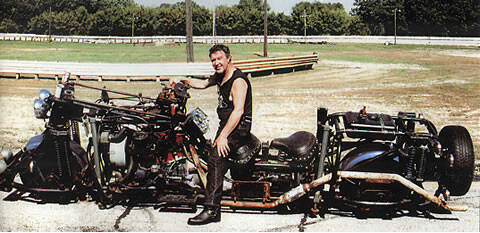 Later Bill moved back to his hometown in northern Wisconsin and went into another field. In 1979 Bill was killed in a domestic dispute and "ROADOG" disappeared not to be seen again for 15-years. Over the years I saw posters in various cycle shops with Bill sitting on the bike, and wondered what ever happened to him and the bike. Was it laying in some garage? Was it rusting away in some junkyard or had it been long ago chopped up as scrap? After about a 6-year search, we did a small article in our magazine, which prompted a couple of calls to us. Then one day "THE CALL" came in.
"I know where the big bike "ROADOG" is". Shortly thereafter, we were headed off with a large trailer and bought the bike. The 15-years of storage were pretty kind to it, and it was soon running again. We are keeping it as an unrestored bike, looking just like "Wild Bill" left it.. all those years ago.b